Updated the BlushyFaceBot web service to show songs that are previously requested and current songs in queue (see image). The plan is to hook up the website to the web service so that the song requests are shown there too. To use this feature you need to add yourself (meaning give permission) to the BlushyFaceBot so that it can join your channel and then add the browser source in your obs/xsplit to show the playing video in your stream.
As explained in the previous post, new commands are added such as !play <optional viewer name> to play songs from that viewer only or play random songs with !playrandom, !autoplay is also added so that I don't have to type !playrandom in chat every time a song has ended while I'm streaming.
To request a song, a "song request" token is needed that is given automatically by donating any amount  (replace mine with your Streamlabs tips / donation link)  or subscribe to request as many songs as you want without consuming a song request token.
The song request also has an API endpoint that shows previously played or queued songs and a website to show it online is being worked on.
Below is a demo how it looks in OBS playing the hamster dance.
Here is a screenshot showing the currently played song, requested by <someone>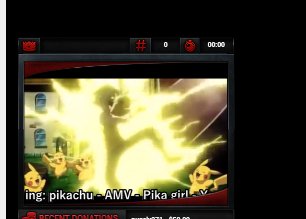 And here is the database that holds the info, not very exciting as you can see but might be interesting to see how I've done it.